Hi
To get the board started, I thought that I would show the following cover. When Italy entered World War II on 10 June 1940, mail could no longer be flown between Alexandria (Egypt) and the UK via the Mediterranean. The direct airmail route between New Zealand and the UK via Australia was therefore broken.
Air mail that was in transit was dumped and continued its journey by sea. This cover is postmarked on 7 June 1940 and so was in transit. It was redirected on arrival in London and has an 8 August backstamp. Assuming that it was backstamped shortly after arrival, its journey took two months instead of less than two weeks.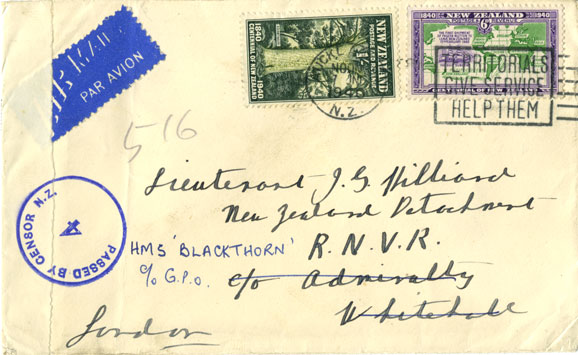 Mail was not usually backstamped on arrival in the UK and this usually only occurred when the letter was redirected. If you have a New Zealand cover to the UK via Australia posted in June or July 1940 and which was backstamped on arrival, could you please post it on this thread so that we can build up a picture of transit times.
The Horseshoe Route via Durban was set up with the first mail leaving the UK on 19 June 1940. The first acceptance from New Zealand on the Horseshoe Route was not until 23 July. Again I would love to see any early Horseshoe Route mail from New Zealand (July - August 1940) which has UK backstamps.
Thanks
Bob